Can you remove the side plate on the pump and check if the metering rack is moving freely, or is moving at all? Might just be a pin or something in the governor that drop.
It is the first think I would make sure on an inline pump.
You can also hear it "click" if you move trottle from low idle to high idle, and It should move even more when you push on the "starting help" button.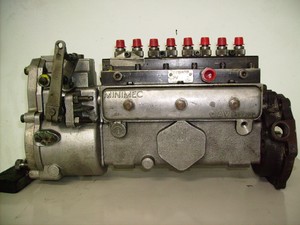 This is that plate with 3 bolts. You have to make sure you see the rack moving freely. (Should be above the plate, but you can feel her with your fingers)
Also, on a JD4440 tractor, I had the return valve on the injection pump getting stuck open, avoiding fuel pump to build up pressure. Tractor would never start, or start miserably and then die.