The manager at the Canadian vintage tractor museum in westlock AB. wants to do things for the younger generations. There is a pull sled there already but the owner preferred that it wasn't used if he wasnt the one operating it (it had been abused in the past) so I decided to build one that is overbuilt and hopefully can't be wrecked.... after all it's just kids on a pedal tractor.... what harm can they do...!?
And when it's complete I will donate it to the museum so that they can use it at will.
I decided to share the details here because I could not find much detailed info online. So i looked at a bunch of pics and threw something together. Please copy if you like and build one for your kids/grand kids/nieces/ nephews or whoever. Kids love it and hey we need young tractor drivers!
It's a bit of a work in progress and still have a few small things to do before it's complete.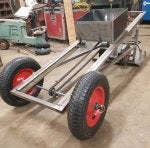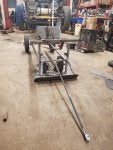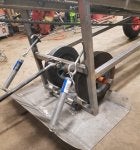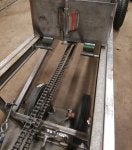 I designed a chain latching mechanism so when the pull is done one can push the brass knob down and let the weight box slide back which allows the springs to tilt the skid shoe back and lift on the wheels. Makes it easier for the sled operator to roll the sled back to the start position.
I used a sprocket cut in half and welded to a lever. It engages with the chain and pushes into the window cut in the square tubing via a spring.