Discussion Starter
·
#1
·
Just a short post to let you all know that the 8820 is now well and truly up and running. In the last two weeks it has taken off about 1000 acres of assorted crops including 100 acres of Canola, 250 of barley and so far about 800 of wheat. We have about 250 of wheat to go as well as 100 of Lupins and another 40 of barley out in the back block, so we hope to finnish (barring bad weather or breakdowns) towards the end of next week.
We did a bit of maintenance on it before the start of harvest including resectioning the knife, replacing the top shaft sprocket and bearings in the clean grain elevator, overhauling one of the straw spreaders and replaced one of the walkers that was cracked. Aparrently the walker block worked loose 2 years ago and the former owner just replaced the block even though the mounting to the walker itself was breaking up, cost us $100 for a second hand walker and no worrys at all to put it in. While we were doing that we also replaced all the walker blocks and the grain pan auger blocks. "Oh" and nearly forgot the most important pre season repair, GOT THE AIR CONDITIONER WORKING. (needed a new hose and re gassing). It gets to well over a hundred degrees over here during harvest and when you are sitting right next to the engine you realy must have that going.
The only thing we have had to do to it so far during harvest is replace the bearings in the front drive varispeed unit, and with a bit of advice from jd9600guru (thanks jd for the advice) we got that repaired just after the canola was done. Since then it has been going well and we are very happy with our purchase.
Here are a couple of photos of number 8820 X 625 837 (according to 8820 Titan2s serial number list making it a 1988 model) working harvesting wheat at "Balkuling" in the Quairading shire, Western Australia, several days ago.
Unloading into the dog trailer. The truck is an Australian made "Leader" and between the truck and single axle trailer we cart about 22 ton to the recieval point per load.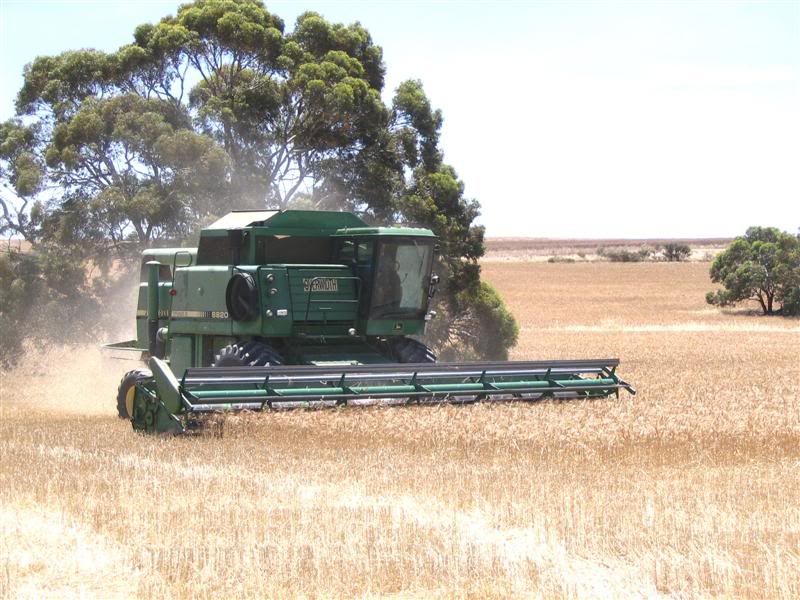 Harvesting on a block of about 150 acres we lease off one of our neighbours.
This is up behind where my brother lives, the padock is about 180 acres.
Anyway fellers, thanks for the advice and encouragement when we were thinking about getting this machine, it's turning out to be as good as we had hoped.
Merry Christmas to you all and may next year be better than this one
Graham